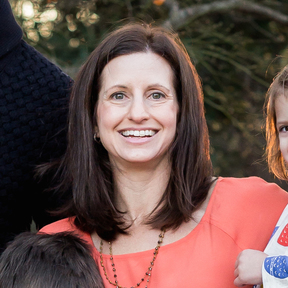 Hello! I'm a navy wife of 12 years. We have four children (ages 9, 6, 4, 2) and have PCS'd 5 times from coast to coast: Annapolis, MD; Newport, RI; Corpus Christi, TX; San Diego, CA; and now in Arlington, VA. We look forward to getting back to the west coast this summer! I know one of the challenges of PCSing for us, and one of the reasons I enjoy being a Millie Scout, is that we don't always have the time or resources to do a house hunting trip. This is a great way to ensure you are getting the perfect home!
Outside of my life as a navy wife and mother, I work full time as the Senior Clinical Practice Director for a company that provides live, online therapy and diagnostic services to students nationwide. Prior to this position, I had over 10 years of experience working directly as a speech-language pathologist in both the school and healthcare settings. My company allows me to work remotely from home, which allows me the flexibility to enjoy a wonderful career while still making my family a priority.
In terms of real estate experience, I obtained my real estate license in 2006 (although it's no longer active) in order to learn more about real estate and be better informed as a real estate investor. My husband and I have owned a condo in Hawaii, a house in Annapolis, and a small apartment complex in Baltimore. Since then, we have sold the smaller properties but still maintain the house in Annapolis. Being a military landlord has been both challenging and exciting, and there sure have been times in years past when I wish I'd had a Millie Scout to go check on things for me!
No followed people