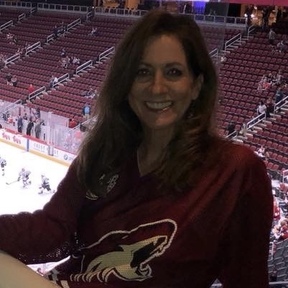 Hello, my name is Kelly and I would love to help you out with your next PCS move!
As a military spouse of almost 30 years and 9 PCS moves under my belt, I completely understand how overwhelming it can seem when orders drop and it is time to find your next home. Whether it will be 3 years or 3 months, I want to help you find your "Home Sweet Home". If you are single, have a roommate, are a couple or have a growing family, I promise to do all I can to find what best fits your lifestyle.
My husband Jeff and I have 2 amazing daughters Ashley(20) & Brooke (17) who I have been blessed to be their "Stay At Home" mom. I am very active in participating in all their extra curricular activities over the years. I enjoy anything to do with the outdoors - concerts, dining, entertaining, baseball, and football games to name a few. There is so much to do here in Arizona! I have 3 horses that I enjoy trail riding with several times a week. We welcomed a new Australian Shepherd puppy into our family recently that keeps me on my toes.
My husband Jeff was an Active Duty Air Force F16 Pilot for 22 ½ years. He retired from Luke in 2011 and stayed here as a Civilian Contractor with Lockheed Martin and the F35 Program. We feel blessed to have lived in Peoria for the past 16 years! We've had three WONDERFUL assignments at Luke AFB starting in 1993 and ending in 2011 with 8 PCS's mixed in. We have also lived in Goodyear (Estrella Mountain Ranch) and Glendale. Arizona is so amazing on so many levels that we decided to stay and see our two daughters through high school and are now considering purchasing our Retirement home here. I have many military friends that have lived or live here in all areas of "The Valley of the Sun" so your options are vast! I will coordinate with them to get you detailed information on exactly where you would like to live and the benefits of each city.
No followed people