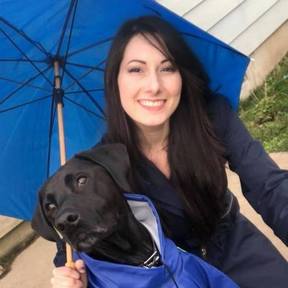 Originally from Louisiana, I moved with my family 7 times before graduating high school. I was homeschooled from Kindergarten through 12th Grade and earned the Congressional Gold Medal for volunteer work and personal development. I then attended Louisiana State University where I earned my bachelor's degree in Business Management with a concentration in Entrepreneurship and a minor in Communication Studies and was chosen as a Ruck's Management Fellow and a Stephenson Entrepreneurship Institute Fellow.
It was through the LSU's Ballroom Dance Club that I met my future husband, who was on a Navy ROTC scholarship. As our relationship grew more serious, I became aware that he would be deploying and if we were to get married, we would be moving to new homes with great frequency. It was then I realized that I was uniquely prepared for life as a Navy spouse. (Or so I thought, lol.) While I was not as prepared as I thought for the frequent separations, I was indeed prepared for working with realtors, picking out houses, surveying neighborhoods, and the general process of moving, having done so with my family so many times before.
Thus far, the Navy has sent us to NAS Corpus Christi (TX), NAS Meridian (MS), and most recently, NAS Whidbey Island (WA), where we have been stationed for the last 3 years. When we moved here from Mississippi, we didn't have the opportunity to take house-hunting leave, so I relied on the kindness of a complete stranger to scout out our current home. I would love the opportunity to pay it forward and help you with whatever you need.
Fun Facts:
Since Navy-life is always a lesson in adaptation, in addition to being a MILLIE Scout, I also work as an Event Planner and Coordinator for Whidbey Party Girls! and as a Range Safety Officer for Pacific Indoor Tactical. I greatly enjoy reading, dancing with The Ballet Slipper Conservatory, and playing with our dog. We're big Disney fans and have visited Disney World (many many times), Disneyland (several times), Aulani, Disney Cruise Line's Dream, and a D23 convention. I was also chosen to be a part of the Disney College program in 2010 and I love sprinkling Pixie Dust (or just excellent customer service) in every role I take on.
No followed people