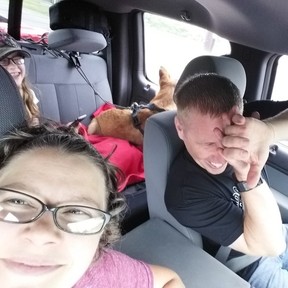 I am Kristina, I go by Tina. I really don't like talking about myself, so how about I tell you about those that I DO love talking about?
My husband. He is schedule to retire from the Air Force in 2023. Our dream is to travel the country once he is retired so he can ride ALL the mountain bike trails (while the pup and I hike them).

Our 13-year-old daughter. She is horse-obsessed, a bibliophile (book lover), an Instagram addict, an aspiring photographer, an artist, and a writer. We homeschool so she can spend all her free time with horses, while also fulfilling her other passions in life. It's a great life for us!

My dog. Yes, I'm that person. My dog loves to be out hiking, exploring, playing with other dogs, and traveling. Those also happen to be things I love as well. He helps me to be a better human and in return, I love to spoil him rotten with all his favorite things.

Ok, a little more about me. Some of my favorite things are: fostering and training dogs, helping people, being creative, and rearranging furniture. One of my favorite things to do when we move into a new place is create a floor plan on graph paper. I then pull out all my paper furniture (that is to scale) and start arranging furniture! A tape measure and a ruler are my favorite toys!
No followed people